ไฟปลูกต้นไม้ Mars Hydro SP 3000 สำหรับเต้นท์ปลูก LED Full Spectrum Sun-like LED 300w Cover 2x5 (60x150cm) Samsung lm301b Osram full spectrum led plant grow light
Manufacturer MARS HYDRO
Item Weight 8.82 pounds 4 KG
Product Dimensions 42.51 x 3.54 x 3.15 inches
Size SP3000(42.5*4*3.1inch)
Wattage 230 Watts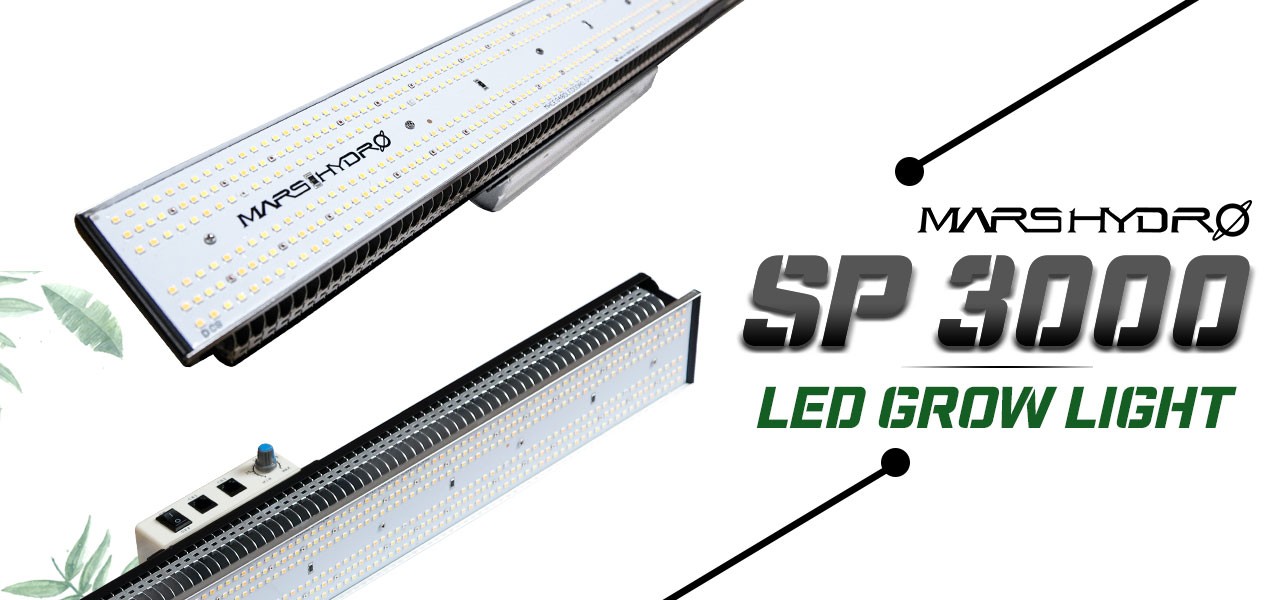 ●【Best-Selling Samsung LM301B Leds】960pcss Samsung LM301B and Osram 660nm led chips, higher quality & more efficiency. Costing only 0.41 USD for every single chip.
●【Upgraded Sunlike Full Spectrum】More warm white and red chips added, extremely good for plants at all stages from veg to bloom.
●【Boom Yield & Increasing Crop Quality】High PPFD at 2.8 umol/j, average yield at 1.8g/w, increasing your yield 50% or more compared with old blurple and HPS lights.
●【Daisy Chain Dimming Function】 Dimmer knob added, more convenient to adjust the brightness. Up to 15 lights can be daisy-chained and control together on just one light.
●【No-fan Design & Aluminum Heatsink & Removable Driver】 No fan design, no noise. A whole layer of the aluminum heatsink achieving optimal heat dissipation. Removable driver and 2m extension cord helps lower the growing room temperature.
●【IP 65 Waterproof】 IP65 waterproof ratings, worry free in high humidity growing environment.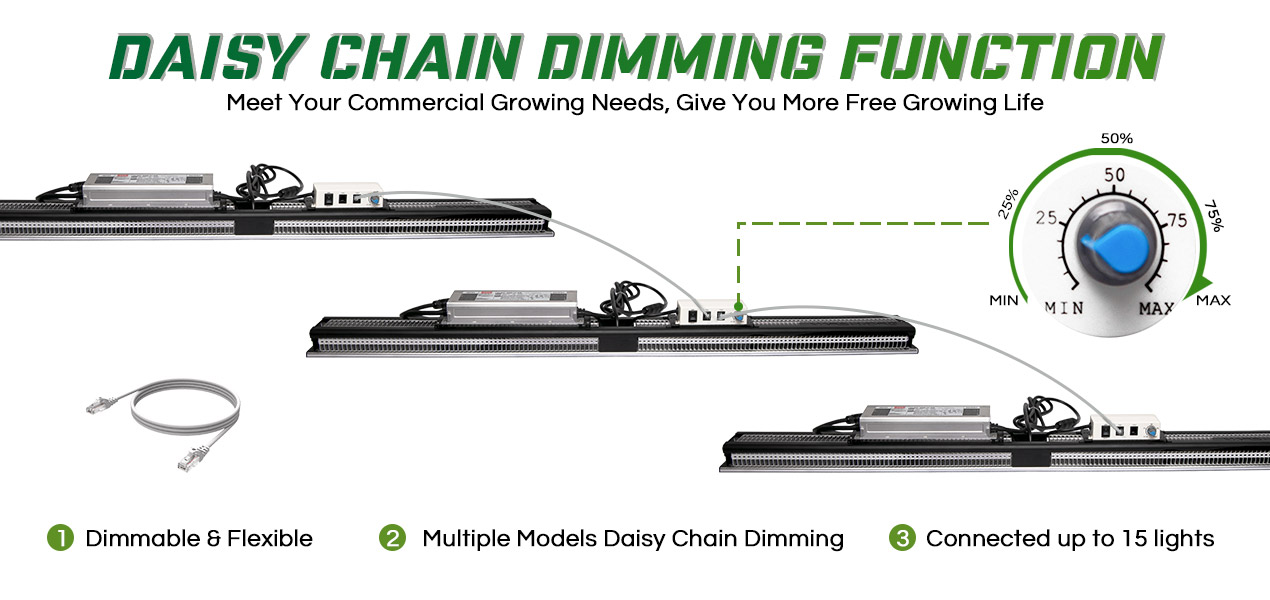 MAJOR UPDATED FROM SP250, Mars Hydro SP 3000 led grow light with 960 Pcs Samsung LM301B diodes & Mean Well driver & dimmable box, only consumes 300w, with high efficiency to save more energy and archhive greater yield. Perfect for 4 x 3 ft veg footprint , 4 x 2 ft flowering footprint.
DIMMING DAISY CHAIN DESIGN: SP 3000 grow light with the dimmable box, just need to control the dimming knob to adjust the brightnees. For commercial grow use, multi lights connected together, just need to choose one light as main light to control all lights dimmable & turn on and off. Easy operation providing great convenience to your planting.
FULL SPECTRUM UV IR indoor grow light: ideal for all growth stages. SP 3000 cover with UV IR help to grow and blossom, speeds up flowering time and boosts yields. Shorten the growth cycle to bring you higher yield in a shorter time. A Good Amount of PAR/LUMEN output(999umol@19.5") for Big Buds.
FLEXIBLE HANGING WAYS: SP 3000 with Led grow strip light design not olny can work as main light like most QB led grow lights, but also can be used as side light.Auto sensing power supply works on both 120VAC and 240VAC and 277VAC, meet different planting needs & is the best grow light for commercial grow.
WELL MADE & VALUE FOR YOUR PAY: No fan design with powerful heat sink creating a quiet growing environment for plants. IP65 waterproof, all leds covered by glue to protect the water from the light, no worry about high humidity greenhouse growing environment. Mars Hydro light support 3 years warranty,any prblem, feel free email us--24hours service for you.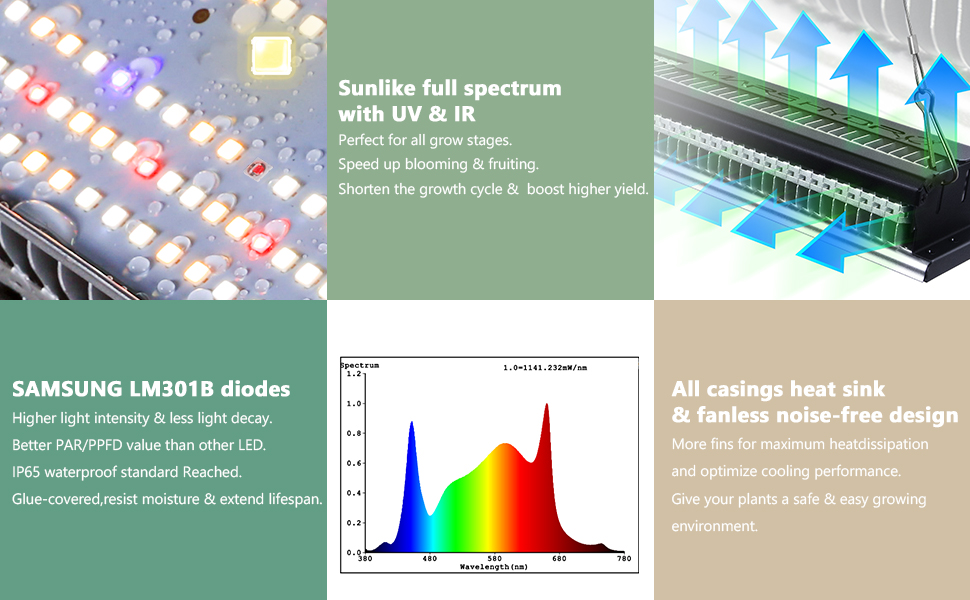 GAME CHANGER - MARS HYDRO SP 3000
When we talk about Mars Hydro, the first impression might be: it is a middle high level brand, very cost efficient for most
personal growers, very great for veg, but bloom not that good. Personal only, not for commercial. etc. But this time, we are
releasing our new product SP 3000, which might overthrow the previous thoughts.

Why would we so confident?
- Sumsung lm301b & Osram 660nm leds
Unlike our previous grow light series, this time we choose only the high end ones. Sumsung lm301b is known to be one of the
best grow lightchip in the market, higher light output, less heat, and longer lifespan, also Osram's red leds are known in the
grow chip market as well. Fluence, HLG, Next Mega, etc are all using the same kind. These chips are great, but expensive as
well. So from the market, you might found most of the grow lights with these chips are not cheap. For example: Fluence Vyper2x
is over 700USD with around 700pcs leds, HLG 550 is over 800USD with around 1100pcs leds which caculated to be around
0.7USD~1USD/pc; On our SP 3000, we uses 960pcs leds, which cost only 0.41USD/pc. Why 960pcs? Cause before we decide to
make this light, we did a lot tests, and we found when the chips are at 0.3w, they actually puts out the most, while saving more
energy. To make the light at 300w, we need 960pcs of chips. The final PPFD of this light is over 2.7umol/j. Helping growers saving
real energys, and replacing 600w HPS without any problem. Will 960pcs chips making too much heat? We also did a test,
compared with our SP 250(which has over 700pcs Epistar chips on the same size board, but 230w) We found that the heat
produced by the SP 3000 is actually lower than SP 250, which only increase less than 3C degrees for the tents temperature.

- Real Sunlike Full Spectrum
Spectrum is the key to plants growth. Before we finally decide to use this spectrum, we have done a lot experiments. Blue
spectrum which from 440~460nmare really great for plants growth, while 650~660nm are great for plants flowering. This is
known to all, but the hardest thing is to find the right ratio to mix all the light so that we can get the perfect spectrum. This
time, we add more walm white and also red chips, UV and IR are also there, and the spectrum are just perfect for plants growing.
Mars Hydro will no longer be the led grow light brand who can produce only "veg" light, but also the real great full spectrum
light for both personal and commercial growers!
- Easily Controlled Dimming Function

To help growers uses the light more conviniently, we do upgraded on our SP 3000 with the dimmer function. Growers now can
control the light density very easily without adjusting the hanging height. But how would just one dimming function differs Mars
Hydro from other brand? We add the dimming function to be connectable. If growers buy more than one light, they can actually
connect up to 15 lights together to control them on one lamp. Unlike other grow light brand, which might need growers to buy an
additional controller, and might cost around 800USD, we save this cost for you. Now from personal grower to commercial
growers, SP 3000 can be all suitable. Using the least money, growing the best plants.
Other than the above features, we also remains the great features on our SP 250 as thick aluminum heatsink design to help heat
dissipate, IP 65, waterproof to help using in the high humidity growing conditions. 2 meter long extention cords to help growers
remove the driver away from the light. What is more, you will find our Mars Hydro Stickers in every light package.