Vtronic W150-01 ท่อลมระบายอากาศ Inline Duct Fan 6" 550 CFM Speed เสียงเงียบ 25dB เหมาะสำหรับใช้งานในบ้านหรือเต้นท์ปลูก
Super Silent: 25dB excellent performance thanks to the double insulated wall and filled with sound absorber foam & hundreds small holes
50,000+ Hours Life: Efficient AC brushless motor built with Japan NMB ball bearings power mixed-flow impellers
Easy to Install: Mounting bracket & buckle designed rubber gasket ensure air tight and vibration-free connection
Flame Resistance PP Material:High impact corrosion resistant & flameproof polypropylene casing for heavy duty applications
What You Get: 1* 6'' silent duct fan, 4*screws, 4*plastic wedges, 1*instruction manual
Vtronic W150-01 ท่อลมระบายอากาศ Inline Duct Fan 6" 550 CFM Speed เสียงเงียบ 25dB เหมาะสำหรับใช้งานในบ้านหรือเต้นท์ปลูก เพื่ออากาศหมุนเวียนที่ดี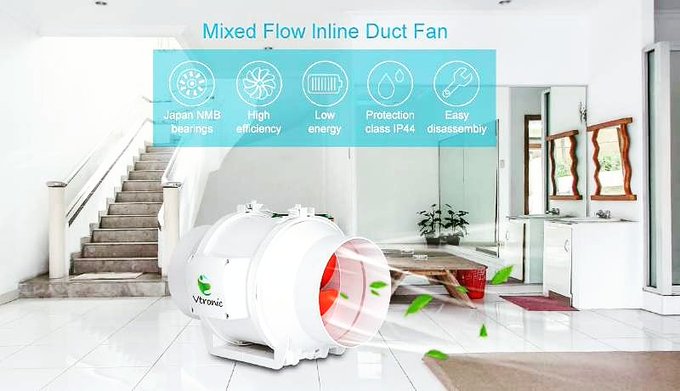 Product description
VTRONIC W150S-01 6'' Silent Inline Ducting Fan
Specifications
- Speed Level: Low/High
- Voltage: 110-120 V
- Frequency: 60 Hz
- Power: 42/50 W
- Speed: 1650/2600 (RPM)
- Air Volume: 340-550 m³/h
- Air Pressure:230-340 Pa
- Noise: 25/30 dB
- Life: Over 50000 Hours
- Weight: 4 KG
- Current (Amps): 0.19/0.28
- Electric Current Type: AC
- Blade Material: ABS Plastic
- Item Dimensions: 485*246.5*223 mm
- Diameter: 6 Inch
- Plug: US Type (3-Head)
Features
Japan NMB bearings,working life more than 50,000 hours.
Super silent while it is working built-in quiet silencer cotton & silencer holes.Effective silencer damping & noise reduction.
Optimal airflow air pressure,high efficiency,low energy consumption and low noise.
Unique buckle design,easy disassembly,tight seal,easy to install and maintain.
Double-diamaeter port,seals leak-proof, shock-proof protection,IP44 waterproof and flameproof.
Environment friendly material,corrosion resistant polycarbonate for heavy duty applications.
Applicable Scene
Can be designed with user friendly features such as time delay, temperature sense, humidity sensor or others.
Operating temperature range: -20℃~60℃.
Perfect for hydroponic,greenhouse,warehouse,baseroom,kitchen,bathroom, apartments, office, public place, hotel, hospital, gym and etc.
Packing List & Warranty
1* 6'' slent duct fan
4*screws
4*plastic wedge
1*instruction manual